Dual Language at McMeen

One of our greatest resources is cultural and linguistic diversity. We have a range of programs devoted to recognizing, supporting, and elevating our diversity!
Dual Language
McMeen offers a 2-way Dual Language program which provides instruction in Spanish and in English. The objective is to produce bilingual, biliterate high academic achievement in both languages. Students who complete their ECE – 5 years in the Dual Language program are eligible in 5th grade for the Pathways to the Seal of Biliteracy. This  honor affirms the students'  biliteracy and follows a Dual Language student in DPS to graduation.
Language Allocation in the Dual Language Program
Below are the Language Allocation guidelines for language instruction at each grade. Students enrolled in our Dual Language program begin in an ECE classroom with a commitment to Dual Language through fifth grade unless the student is transferring to McMeen from a similar Dual Language program school. (Note, ECE stands for Early Childhood Education and is our 4-year-old program, and K stands for Kindergarten)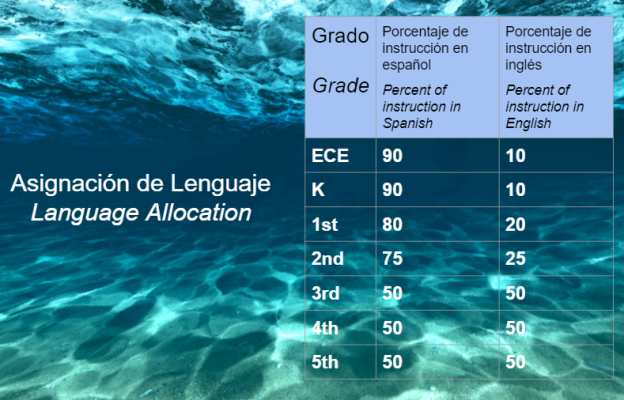 Program Contacts
If you would like to get involved or need more information about biliteracy at McMeen please send an email.