School Choice Deadline Extended
Posted February 14, 2023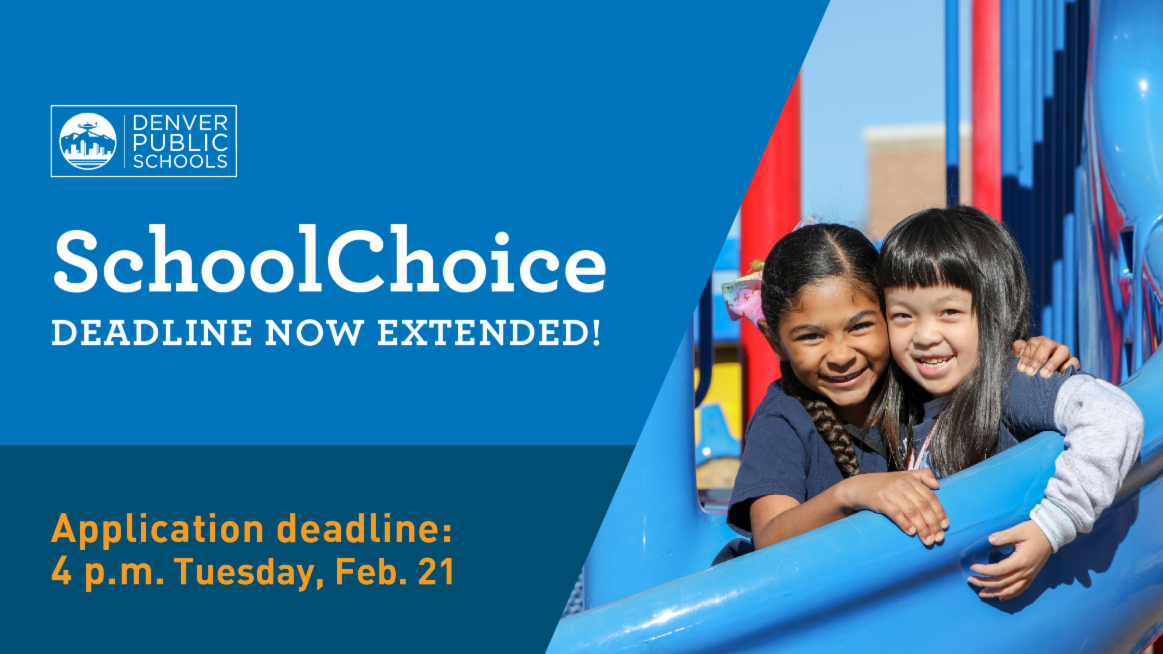 The system that DPS uses to accept and process SchoolChoice applications, SchoolMint, experienced some technical issues and some families were unable to complete their SchoolChoice applications. To ensure that all families are able to submit an application for their student, the Round 1 deadline has been extended to 4 p.m. Tuesday, Feb. 21.
This means that if you have not yet submitted your SchoolChoice application, you still have time to list your school preferences for the 2023-24 school year. Get started now by accessing the SchoolChoice application here. Create an account or sign in using your Parent Portal login. Then, rank your school options and submit them by 4 p.m. on Tuesday, Feb. 21.
If you are having trouble submitting an application, please contact the Office of Choice and Enrollment Services by calling 720-423-3493 (hotline operating hours are 8:30 a.m. to 4 p.m. Monday through Friday) or email SchoolChoice@dpsk12.org.
As a reminder, although the window has been extended, Round 1 of SchoolChoice is not a first-come first-served process. There are no repercussions or benefits for families who submit an application earlier versus later during the Round 1 window.
ECE-3 and ECE-4 families still must complete their Universal Preschool (UPK) Colorado application by Feb. 14, but will have until Feb. 21 to complete their SchoolChoice application. Learn more about the UPK application here.